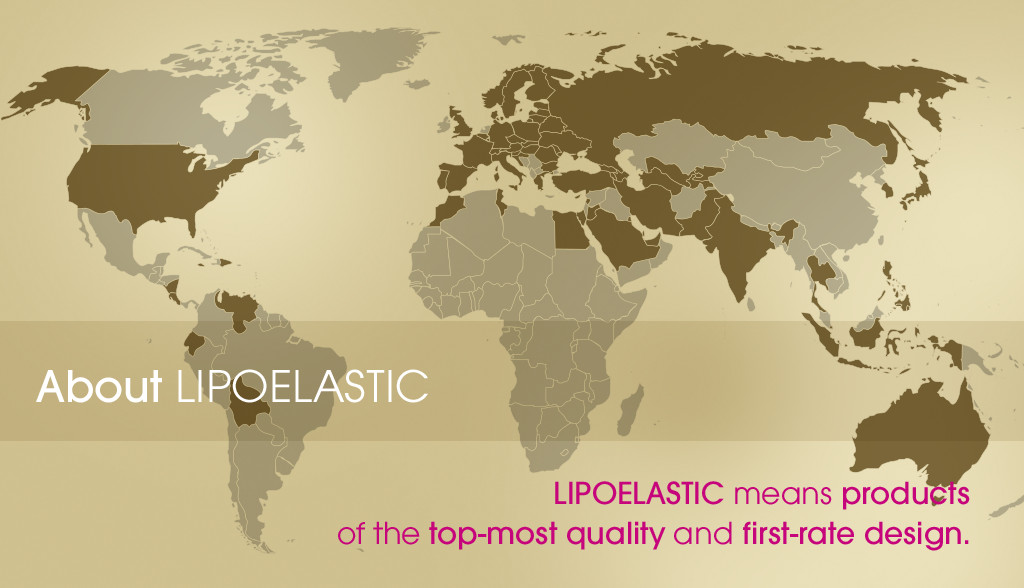 About us


LIPOELASTIC has been a leading brand in the field of plastic and aesthetic surgery since 2002.
Top specialists, qualified employees and the overall facilities of the company LIPOELASTIC a.s. make possible the innovative development and production of compression garments. In over 70 countries, our popular garments are recommended to patients by their doctors with a clear conscience during post-operative care. That ranks LIPOELASTIC a.s. among the largest producers in the world and a leader in Europe.
In 2010 our product range was expanded with the production of support stockings. We, at LIPOELASTIC, are uncompromising when it comes to the quality of our products. The use of new and functional materials and the wide range of products, elegant designs and complete customer service has proven this to be the right stance to take. We distribute our stockings to dozens of countries on five different continents.
Except this, we are exclusive distributor of Eurosilicone and Nagor breast implants, Teosyal dermal fillers and Teoxane cosmeceutics, Biodermis products for treatment of hypertrophic scars to BodyJet appliances for liposuction and fat transfer for Czech Republic.
About Manama Medical & Chemical Est.
The company Manama Medical & Chemical Est, was founded in 1996-Managed by Mr.Mansoor Qadami as Managing Director, who took up the challenge to establish this concern as one of the leading suppliers of surgical disposable, laboratory equipment's, chemicals, & Orthopedic appliances to the major Hospitals, Pvt Hospitals, Clinics and the department of the Ministry of health, Interior & Defence forces.
Once the company got stabilized it was able to expand its activities and the second division Manama Import & Export was added solely concentrating on Orthopedic products & Equipments, now the company has a wide range of products to fulfill the needs of our numerous clients & customers.
The team in both the division consists of experienced personals who has been serving the industry for years, the sales team are well versed in their respective fields.
The company has a powerful, experienced administrator who guides the staff and runs the institution effectively. The staff are always pleasing, obliging and well mannered.